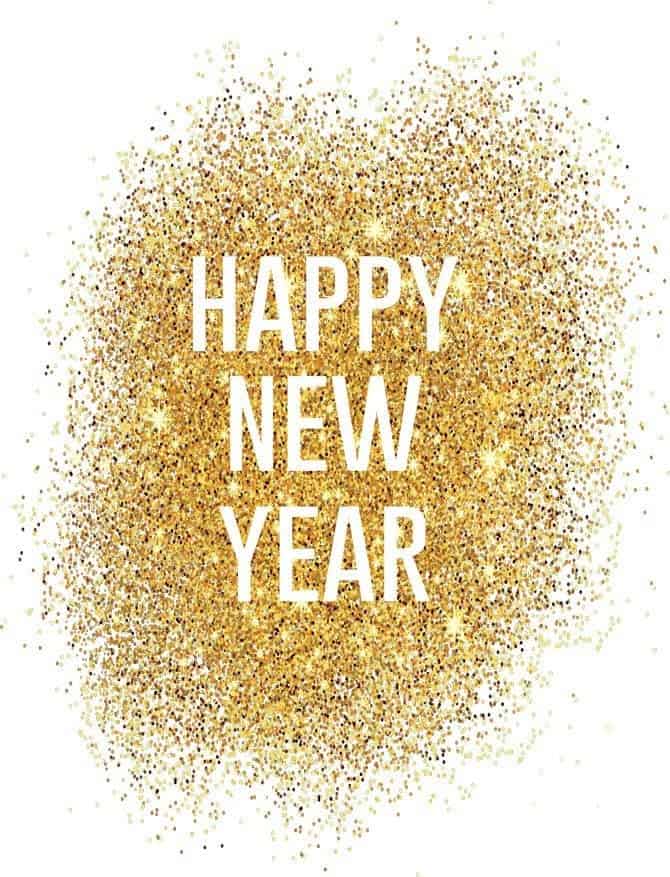 Happy New Year science lovers!
***
New Year, time for a New You, right?
As we ring in the new year, a lot of us make New Years Resolutions to try and better ourselves over the next 365 days. But most of those are long forgotten memories or thrown away ideas by the time January has ended – this is the way most of my New Year's Resolutions end anyway! But not achieving these goals can knock our confidence and self-esteem before the year has really started, and normally that's because our resolutions are too vague and because we feel we should change something. It's time to change that! Far too often I make resolutions that I don't stick to, but now for 2018 I'm not making any! Instead I'm making a list of goals I want to accomplish in 2018 – I even bought a beautiful goal board to keep me motivated.
.
But before I share my 2018 goals with you I wanted to share some tips and ideas that I've come across with some from the wonderful @science.sam ans Lisa from @inascienceworld that will hopefully help you set some goals that you can stick to and start ticking them off! While we will all have different goals and priorities for the year ahead, there are a few tricks that psychology research teaches us that can help everyone attain their goals.
.
My advice for setting your goals for 2018…
♥ Ask yourself what you want to achieve and why
This might seem like an obvious place to start, but asking yourself these questions helps you define your motivation, get excited about your goals and reminds you of their importance. You are never going to achieve a goal if you are trying to do it just because you feel you have to set a New Years Resolution. You have to feel connected to it!
♥ Set S.M.A.R.T goals
Be SMART in setting your 2018 goals! And by that I mean set Specific. Measurable. Attainable. Relevant. and Timely goals! Make your goals specific and clearly define how you are going to achieve it. So, if you want to get fitter, instead say that you are going to go to the gym 3x a week. Or rather than saying you want to write your PhD thesis, instead say that you are going to write 100 words a day. What's the use in setting goals if you can't measure how you're doing for that motivational boost? So, instead of saying I want to lose weight, set yourself the goal to lose 5 stone for example. Your goals have to be attainable. Your goals need to be realistic and achievable otherwise you just won't stick to them. End of! I realise that I won't be replacing Brian Cox in the next year or so, but I can do more and more science communication. Making relevant goals is what is going to give you that connection I mentioned and something you care about right now! Finally, your goals have to be timely, and something you can achieve this year. Set attainable time frames to achieve these goals. Realistically, you are not going to lose that 5 stone in 2 months, so you might want to give yourself 12 months for that.
♥ Include life, career and hobby related goals
It is all about the work-life balance, especially if you're a grad student as a lot of us are guilty of not looking after ourselves because we feel we should be in the lab doing research 24-7! So, setting goals from all aspects of your life will help you with that balance and you won't just focus on how many papers you can publish in a year. Ticking off those goals in all aspects of your life will make you feel happier too, and also help you realise if you're working too hard and not taking enough time for yourself – and vice versa!
♥ Don't set too many goals
This is something I am VERY guilty of! I am always that person that wants to do everything, and everything really well! So, I often get frustrated because I'm trying to do too many different things and am not making as much progress on each of them because I'm not focused! Too many goals means that it will become significantly more difficult to tick them all off, and that might start causing you more stress when you're not achieving them. I would say pick no more than 10 goals for the year when you have a mixture of them from all aspects of your life too.
♥ Get yourself a goal board
While you might have lots of support to achieve your goals, it is really only you that can get you there, so you need to have a way to hold yourself accountable! Find whatever way works best for you, but personally I'm going to have a goal board because it will show me how far I've come and what I have left to achieve. Plus it looks pretty 🙂
♥ Be ready to forgive yourself
We are all human! We will all make mistakes and slip up sometimes. Rewarding goals are going to be tough. Tough goals mean you will probably slip up sometimes. That's normal! Just get back up and carry on rather than giving up. Because reaching those goals will be worth it.
.
So, what are my goals for 2018?
I've reflected on 2017 and thought about how I can make more achievable goals for this year. All that is left to do now is set my 2018 goals! Look at my beautiful goal board… okay it needs a little personalisation still but…
I've set 9 goals in total! 3 career goals, 3 scicomm goals and 3 personal goals! 2018 – I'm ready for you! This is going to be my year!
***
♥ Become Dr Arthur!
Finishing my PhD and becoming Dr Soph is my biggest goal of the year! It is a goal that is pretty much guaranteed unless something goes terribly, terribly wrong. But it is still something I want to achieve this year and not leave to drag over into 2019! Due to the nature of the PhD program I am on, I have to have my thesis submitted by the end of September, so I know that I want to be out of the lab by the end of June at the latest to give me enough time to write everything up and edit, and re-edit and edit again! Roll on ticking this goal off!
♥ Become a published scientist!
One of my 2017 goals was to get my first paper published, but despite working my ass off last year, I managed to do everything to achieve this goal except resubmit my edited manuscript. So, I wanted to keep this goal for 2018. This is the first thing I will be doing next week when my supervisor returns from their break and fingers crossed that the journal likes the changes and will accept! Otherwise, we will look to submit to another journal instead. I feel pretty confident that this manuscript will be accepted at some point in the year. But I don't just want to stop there! I want to wrap up the loose ends in my PhD work and have at least one, hopefully two, more papers in progress! Plus it would be an added bonus if I had the opportunity to attend a conference – hopefully an international conference – with a chance to present my research.
♥ Find a post-PhD job!
This goal is kind of another essential for me this year. The day I submit my PhD thesis is the day my funding runs out, so my last pay packet will be in July! This is something I am very conscious of and something that will stress me out as it creeps nearer, so I am hoping to get a job ASAP to avoid having no money whatsoever. I am hoping that over the first half of 2018 I can decide whether I want to continue working in labs or move into science communication and hopefully get a full time position that will let me do that!
***
♥ Reach 10k IG followers!
Starting to do scicomm using Instagram and other social media has been something I have loved doing – especially as it combines my love for photography, and I have met some of the most inspirational friends. It is something I am proud of and feel honoured that 6000 of you already want to learn a little about life as a scientist or just simply science! I want to grow this little passion of mine with more people so reaching the 10k mark would be a dream come true.
♥ Start sharing Soph talks science YouTube videos!
This is something I wanted to start last year, but something that I realised would need a bit of equipment that I would need to buy if I wanted to do it well to start off with. Most of that equipment has now finally been bought and ready to put the wheels in motion. All I need to do now is decide on exactly what sort of videos I want to share with you all. I've got a few different ideas but hopefully my wonderful friend Emma will help me out and point me in the right direction. I would obviously love your input too – so please leave a message with ideas of what videos you would like to see!
♥ Get involved with more scicomm events!
I have fallen in love with science communication and in 2018 I want to become a better science communicator. While I will continue to improve certain skills with this blog and my social media platforms, I'm a true believer that you need to push yourself out of your comfort zone to improve sometimes. So, this year I want to get involved in more scicomm events! I am involved with Pint of Science again with slightly different roles to gain more skills. But I also want to apply to Soapbox Science and FameLab, do more science talks at festivals, do more STEM ambassador activities, Skype a Scientist and maybe even do some science comedy! Probably not the most measurable goal now I've written it down, so let's say to do at least 3 scicomm events!
***
♥ Lose 3 stone!
Losing weight I think as always been on my New Year's Resolutions. But this time I have a specific target and a relevant goal! I'm getting married next year now, and I've always told myself that I don't even want to start thinking about trying on dresses until I feel good about myself. And that's what I'm going to do. I have about 7 or 8 months before I probably need to start looking – scary thought! – which gives me enough time to reach my target!
♥ Start weight lifting!
This goal isn't very specific I know and it's also a bit counter intuitive to my previous goal, but at the moment I'm not quite sure how I'm going to achieve or define it. Let's say I want to do weight training twice a week. I've always wanted to be strong and toned, but recently I've liked food far too much. This year is the year that all that changes. I'll still love food of course, but I will start loving sport and exercise again too. Weight lifting I think is a way I can achieve this, and coupling this will cardio will help me to start feeling better about myself.
♥ Explore 5 new places!
I have a serious case of wanderlust!, so I would travel more and further if student life allowed me to. However, with a student budget, trying to finish a PhD and saving for and planning a wedding, 2018 is not going to be that year where I can start travelling to every corner of the globe. I have a holiday booked for March and besides that I am going to take advantage of what is right on my doorstep here in the UK. So, exploring 5 new places this year will hopefully satisfy my travel bug! Plus it's more opportunities for me to collect those postcards for my projects! If you can send me any postcards for my projects, then please get in contact too 🙂
***
2018 is going to be a big and stressful year for me! But I am feeling refreshed after the break and ready for the challenges that finishing up a PhD will throw at me and balancing it all with everything else I want to achieve, and I am looking forward to sharing it with all of you!
But now it's over to you!
My goals are set, and I'm excited to get ticking them off and see what 2018 brings.
What are your 2018 goals? Leave a message. I would love to hear all about them!
♥ You've got this! Here's to an amazing and goal-smashing 2018 ♥
Science love.
♥ Follow my blog so you don't miss a blog post by entering your email in the menu above!
♥ Connect with me and keep up to date on my life as a scientist and fun science stories with Soph talks science on Facebook, Twitter and Instagram.
♥ Support science research by purchasing yourself a little something special from the incredible CureGear here – a donation from all their profits goes to supporting Alzheimers, cancer or heart research, and I am proud to be a brand ambassador!