Happy Tuesday! And welcome to the second installment of my #Pint17 previews to get a taste of what we are brewing her in Southampton for our Pint of Science festival in May. And with tickets going on sale in less than 3 weeks, I'm hoping it will help you decide which events you might want to attend. So, today is the turn of the Beautiful Mind theme.
Now this theme might sound self-explanatory – it is going to be loads of people just talking about the brain! Well, much like neuroscience, there are a lot more layers to it than simply how the brain works, or may stop working! We use our brains in EVERY aspect of our lives – from thinking and walking, to helping us see and talking amongst thousand of other things! They never switch off – even when you are tucked up in bed asleep every night! So even with a theme that upon first look might seem to be straight forward, there is still such a diverse range of research related to our brains or things we use our brains for happening right here in Southampton, and our Beautiful Mind team have got the difficult job of choosing between all that research and bring you the most interesting speakers and activities so you go home having learnt so much about your brain whilst using your brain to watch, listen, ask questions and of course reach out and grab that pint for a refreshing drink every so often!
.
Who are Team Beautiful Mind?
Today I want to introduce you to Charlie, Joe, Jessica, Patricia, Katie and Krithika!
This is your Beautiful Mind team for #pint17 #soton! These guys and girls are all scientific researchers at various stages of their research careers. We have 1st year and 2nd year PhD students and even a principal investigator which means they run their own lab! But they all have one thing in common – they all study the brain, but with such a variety of different aspects from dementia, to your own body clock and how your immune system affects your brain.
These brainy people are going to make you fall in love with everything brain related and make you want to know more and more about the neuroscience research going on in the city.
So this team have it nearly sussed – three themed nights decided, speakers ever so nearly confirmed, and activities coming together so I am going to give you a flavour of ALL THREE Beautiful Mind nights being brewed currently! But the full details of all the events are going to be kept under wraps until the official Pint of Science launch on 3rd April – DATE FOR YOUR DIARY! – so remember to check back then, plus we also want to keep you guessing a little while longer.
.
Where will the Beautiful Mind events be?
A very important question – there would be no point me telling you what you can see at these events if you don't know where you can find them.
These mind-boggling-ly awesome events will be held at the uber cool Stein Garten Southampton. A Bavarian Beer Keller and brains! What more could you ask for? Again – exact details of start times and any food and drink details will be revealed in the coming weeks.
.
What will I learn about at the Beautiful Mind events?
Now for the best part – what are the plans for the Beautiful Mind events? As promised there will be a taster for each night the team has planned, so let's get stuck in.
Night 1 – This night will ask the question 'What happens to our brains when our environment changes?'. Hands up if you've ever experienced jet lag after a long haul flight? I'm assuming some of you probably have. Well, depending on which direction you've flown and how big the time difference is – you can find yourself absolutely exhausted and wanting to go to sleep in the middle of the day, or you are still wide awake with no signs of sleep in the middle of the night! We can blame this on your brain – or specifically your circadian rhythms which is also known as your body clock. This is going to be one of the topics for this night looking at how day turning into night affects what happens in our brains. This night will also look at how are brain responds to visual cues and how we learn from that. Some examples of this spatial learning to get your taste buds tingling are how rats remember the location of the food at the end of a maze, or similarly it's how you remember you way around a city. But do you know what happens in your brain so you can remember your route? Come along to this night and find out!
Moving swiftly on to Night 2 – this night is going to focus on your Fight for Sight. If your a big soap fan like me, you might have seen the recent story line in Eastenders with Dot Cotton and her issues with going blind. In the science world, this is called age-related macular degeneration and this is an example of what it will do to your sight: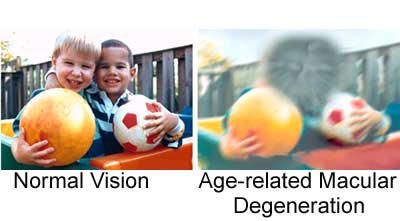 1 in 3 over 80 year olds will suffer from this vision loss – but there is some awesome research going on in Southampton to try and tackle this problem. This is going to be one of the topics covered on this night and will also ask how our brains are linked to what we see. Get preparing your questions now and head to this Beautiful Mind night to learn about what research is happening NOW, that might be able to help cure your blindness in the future when you are Dot Cotton's age!
Night 3 is going to focus on Alzheimer's disease. This particular night is something that I personally really want to attend as it is a topic that is close to my heart and also one of my biggest fears is losing my memories – so I am keen to learn anything about this disease. I'm sure all of you have heard of Alzheimers and I'm sure a lot of you have had some personal experiences with it but here is your chance to learn more about what is currently being done to tackle dementia. There are going to be two very different speakers on this night – one is an occupational therapist who works with dementia patients and the second is a clinician who is talking about the clinical trials that are ongoing and related to Alzheimers. So, there really is something for everyone on this night.
I have just touched briefly on some of the topics the Beautiful Mind speakers will cover – and not only that you can ask questions about anything so I'm sure you will learn so much more than just about your body clock, blindness and Alzheimer's. And please dont be afraid to ask questions – scientists love to talk about their work so make the most of it 🙂
But you wont just be sat listening to speakers all night long. We are going to put your brain through its paces and challenge it to the Stroop test! You've all heard of the Stroop test right? No? Well maybe this picture might jog your memory.
Still not sure what I'm talking about? Well, we are going to try and trick your brain – we are going to show you a series of cards like this one and we want you to say what colour the word is without saying the word itself. For example, with the picture above we want you to say GREEN, not yellow! Get me now?
Does that seem easy to you? I can assure you it is not that easy – but if you're still confident that you will be able to do it with no mistakes then come down and join us in May and see how quickly you can do it. Can you be the champion of the #Pint17 Stroop test?
.
Why should I attend the Beautiful Mind nights at #pint17?
I think I've given you all the reasons why you should attend the Beautiful Mind events by sharing so much insider info with you! But the main reason is so you learn more about the big and powerful organ that is our brains!
Despite all the taster info I've already given you, the team are going to answer so many more questions related to your brains such as:
Can computer games be used in diagnosing depression and memory loss?
Can your own immune system help treat blindness?
And how does light affect our brains?
Do you really want to miss that opportunity? I didn't think so! So come to the Beautiful Mind events at #pint17 #soton this May  because 'Knowledge is power and your brain is power-ful!'
.
.
Obviously the Beautiful Mind team are still working on finalising their program for #pint17 #soton. But if you want to stay up to date with all the latest news and updates by join our Pint of Science – Southampton Facebook event. Or if Twitter is more your thing, then follow the accounts shown below 🙂
If you missed yesterdays post, click here to see what our Atoms to Galaxies team might have  in store for you!
.
We hope to see you in May learning about the amazing science research going on in Southampton in one of your local pubs!
Please don't forget to keep up to date on all my new blog posts, all the latest news and more! Find me and Soph talks Science on Facebook, Twitter and Instagram.